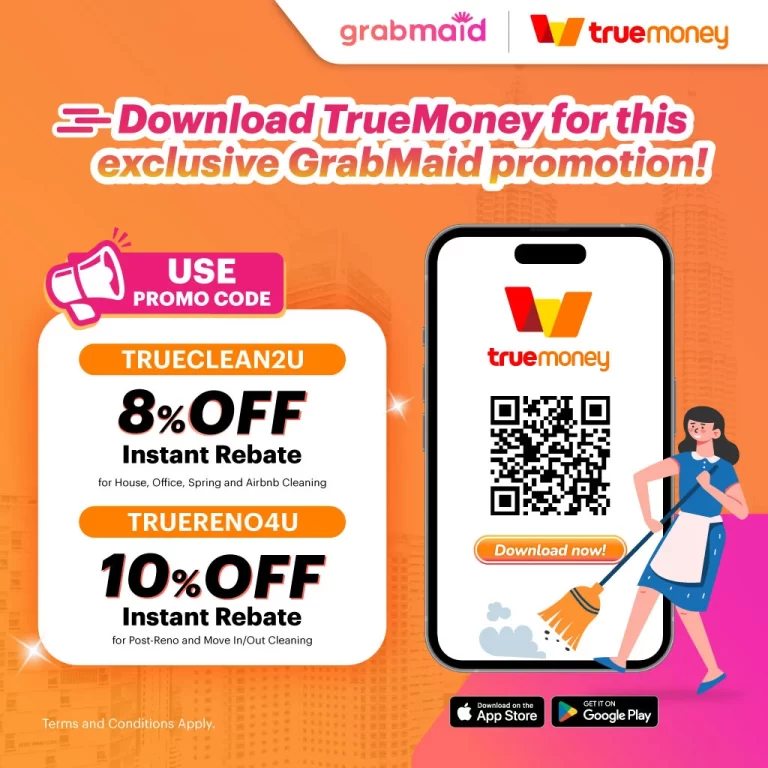 Clean it Right with GrabMaid & TrueMoney
Campaign Period: 1st December 2023 – 31st March 2024
Ready to transform your space into a clean haven? TrueMoney and GrabMaid are here to make it happen! Get ready for exclusive discounts that will bring a cleaner, organized, and stress-free life to your doorstep. 
How to Enjoy These Savings:
#1 Open the TrueMoney Wallet and click on the "GrabMaid" icon.
#2 Choose your preferred service, date, and time.
#3 Remember to apply either codes of:
TRUECLEAN2U: Enjoy 8% OFF Basic Cleaning (House Cleaning, Office Cleaning, Spring Cleaning, and Airbnb Cleaning).
TRUERENO4U: Enjoy 10% OFF Post-Reno Cleaning or Move In-Out Cleaning.
🚨 Please note: These exclusive discounts are only available when you access the GrabMaid booking system through the TrueMoney App. Each promo code can be only used ONCE per user, so make sure you don't miss the chance to save on GrabMaid's excellent cleaning services!
Ready to simplify your life? Start your journey with TrueMoney & GrabMaid now! 🧹✨
📲Download the TrueMoney app and enjoy these exclusive discounts.
For any enquiries, please contact us at: